Ashitaba Tea with Chalcones inhibit Cancer Cells
Ashitaba Tea which originates from the Hachi Jo Island, 295 km from Tokyo, Japan contains Chalcones which have been shown to inhibit cancer cells.  Such principles are consistent with Foodie Body "First Principles" food of going to plant based sources to fight inflammation and inhibit the growth of certain cancer cells.
Serves: 2 cups per tea bag
Brew Steep Time: 5 minutes
Xanthoangelol 0.250g
4-hydroxydericin 0.0680
Chalcone   0.3189
May be purchased at many online grocery stores
Prep Time: 5 min
Calories: 0
Vitamin A 9%
Vitamin C 12%
Calcium 6%
Iron 1%
Dried Ashitaba Root, leaf and stem
Hot Distilled Water for Tea
Step 1 – Fill your container
Place Ashitaba tea bag into hot water
Step 2- Drink and Enjoy
Let steep or brew for 5 minutes
2-Hydroxychalcone and xanthohumol exerted potent inhibitory effects on invasion.
Breast cancer is estimated as one of the most common causes of cancer death among women. In particular, triple negative breast cancers (TNBCs), which do not express the genes for estrogen/progesterone receptors (ER/PR) and human epidermal growth factor receptor 2 (HER2), have been associated with poor prognosis and metastasis. Chalcones, the biosynthetic precursors of flavonoids present in edible plants, exert cytotoxic and chemopreventive activities. Although mounting evidence suggests the anticancer properties of chalcones, limited information is available regarding the inhibitory effects of chalcones on the aggressiveness of breast cancer cells. The present study aimed to investigate the effects of chalcone and its derivatives on the growth and the invasiveness of TNBC cells. Here, we showed that treatment with chalcone, 2-hydroxychalcone, and xanthohumol for 24 h inhibited the growth of MDA-MB-231cells with IC50 values of 18.1, 4.6, and 6.7 μM, respectively. Similarly, Chalcone, 2-hydroxychalcone, and xanthohumol also exerted cytotoxicity in another TNBC cell line, Hs578T. Neohesperidin dihydrochalcone, 4-methoxychalcone, and hesperidin methylchalcone did not show the cytotoxicity on the MDA-MB-231cells. Xanthohumol and 2-hydroxychalcone induced apoptosis by Bcl-2 downregulation. Importantly, 2-hydroxychalcone and xanthohumol exerted more potent inhibitory effects on the proliferation, MMP-9 expression and invasive phenotype of MDA-MB-231 than chalcone. These results suggest a potential application of these chalcones as anticancer agents that can alleviate malignant progression of TNBC.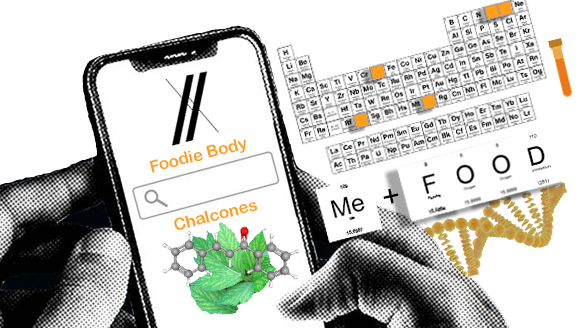 Ashitaba Tea in Five Minutes